You can choose which branch you plan to give
your tithe and offering in the Online Giving app!
Thank you for your support of The Shepherd's House Open Bible Church. Because of your financial support and generosity, you have planted the seeds that will enable Shepherd's House to grow in our communities, and provide a church home for you and others. Thank you for answering the call to contribute to God's work here at The Shepherd's House Open Bible Church.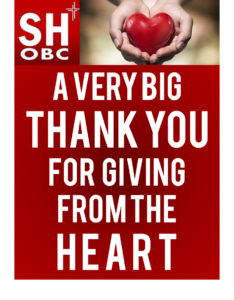 Monetary:
Give to one of our many appeals

Send a monetary donation in the amount of your choice

Make a special 5th Sunday mission collection for Shepherd's House at your local church

Invest in one of our many sponsorship opportunities!

Consider making a lasting impact by naming Shepherd's House OBC in your will

Make a gift now and plan to make a larger gift later with a wide variety of planned giving opportunities available to you.
For more information on ways to make a gift to Shepherd's House, please contact the Ministry Advancement Team at (347) 635.0461.
Non-Monetary:
Schedule a visit and come see what we are all about! Call the Advancement office at

347.635.0461

to schedule a tour today!
Shop on Smile.Amazon.com (select Shepherd's House) and part of the proceeds from your order will go directly to Shepherd's House! Click here: www.smile.amazon.com
Our primary uses are:
We also use funds received for the necessary daily operations and administrative costs of the ministry as a whole. We always use designated gifts, or gifts given in response to particular appeal, in keeping with the purpose for which they were given.
The Shepherds House Open Bible Church, Inc., is a 501(c)(3) non-profit organization.
Our policy is to apply gifts given toward a specific program. If we receive more contributions than can be wisely used for a given project, we apply these funds to meet other pressing needs in our ministry efforts. We are committed to stewarding all gifts wisely toward the goal of proclaiming the holiness of God to as many people as possible.